Who to Sue After a Semi-Truck Accident
Sept. 13, 2022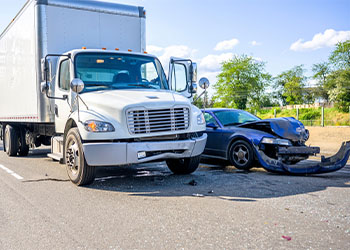 All car accidents are traumatizing, even if there's only property damage and everyone is able to walk away relatively unscathed. However, if it was an 18-wheeler accident, the outcomes are often significantly more devastating.
According to the Insurance Institute for Highway Safety (IIHS), over 4,000 people died in 2020 as a result of a semi-truck accident. The vast majority of these victims (68%) were the occupants of cars and other passenger vehicles.
If you've recently been injured or lost a loved one in a truck accident, give me a call at The Thomas Law Firm, PLLC to discuss your options for pursuing compensation. I work out of North Chesterfield, Virginia, but I can help accident victims in Richmond, Henrico, and Petersburg.
Assessing Liability
Key to litigating a truck accident like this is answering the question, "Who can be held liable in a truck/semi-truck accident?" There are several potential answers.
The truck driver could be responsible for the accident if it's found they were acting negligently or recklessly, but liability can also lie with the trucking company. For example, if the driver did not receive adequate training or was required to drive over the legal amount of hours per day, this would be the fault of the driver's employer, not the driver.
In other cases where a component of the truck itself malfunctioned or was found to be defective, the parts manufacturer could be held liable or the maintenance personnel responsible for safety checking the truck before it went out on the road.
Another essential element of semi-truck road safety is balancing the load. If the person loading the cargo doesn't ensure the load is balanced, this can cause the truck to tip while making a turn. Lastly, fault may not lie with the truck at all and instead fall to the driver of the passenger car.
Factors in Determining Liability
When you work with a personal injury attorney, they will investigate your case to help determine who should be held liable. This includes looking at many factors, including police and accident reports and eyewitness testimonies.
The first aspect they'll look at is whether the truck driver could be held liable since one of the most common causes of semi-truck accidents is driver inattention. Fatigue and inadequate training contribute to this and can have tragic results if the driver loses control of their truck even for just a few seconds.
Fault can also fall to the driver of the passenger vehicle. In these cases, the driver may not have given the truck a wide enough berth when passing or failed to give enough room for it to turn. Even though semi-trucks are equipped with many mirrors and other safety features, a passenger car will always be harder to see than a larger truck, and drivers must exercise reasonable caution when driving around 18-wheelers.
Lastly, neither driver could be at fault, and instead, the cause of the crash could be dangerous road conditions. This is often due to adverse weather like snow, sleet, fog, or heavy rain, but can also be on account of construction.
What Steps Should I Take Next?
After an incident like this, your first step is to call a truck accident attorney who can walk you through your next steps and help you deal with this stressful time.
If you're the victim, you may wish to file a personal injury claim. For this, you need to ensure you've sought medical care, filed a claim with the other party's insurance, and gathered as much evidence as possible, including police reports, photographs, and any witness statements.
If you're representing a loved one who's lost their life, you may want to pursue a wrongful death claim. In Virginia, you have two years from the date of the incident to do this.
Legal Guidance You Can Trust
If you're in the North Chesterfield, Virginia, area and would like to speak with an experienced attorney about a recent semi-truck accident, reach out to me at The Thomas Law Firm, PLLC.