Understanding Personal Injury Claims in Virginia
Dec. 8, 2021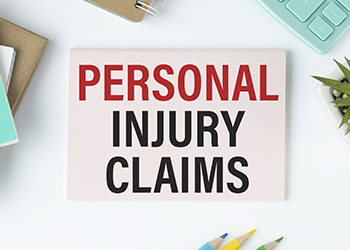 If you've been injured in an accident, you need a clear understanding of how to pursue compensation to cover your expenses. It's hard enough recovering emotionally and physically from an accident; you shouldn't have to worry about how you're going to make ends meet.
If you want to know more about filing a personal injury claim, and you are in or around the North Chesterfield, Virginia, area including Richmond, Henrico, or Petersburg, call me today to set up a time to talk. I founded The Thomas Law Firm, PLLC to help those who need legal counsel and educate my community about their legal rights and opportunities. I'll personally work with you to uncover the facts of the case and put together a fair yet aggressive plan to meet your needs.
Personal Injury Claims in Virginia
The Commonwealth of Virginia is an "at fault" state, meaning the person who caused the accident is responsible for paying all damages. This is often handled by an insurance company, and in many accidents, they'll pay out a settlement to cover the costs associated with the accident. However, these can often leave the victim with uncovered expenses since the insurance adjuster wants you to settle for the lowest amount possible.
Virginia also follows a "pure contributory negligence" rule which means if the victim had any role in causing the accident — even minor — they cannot collect damages from the "at fault" driver.
These two laws together can make for extremely complex and nuanced cases, and you need a personal injury attorney who understands how to work through them. In most cases, you only have two years from the date of an accident to file a personal injury claim, and if you miss your window, your claim could be thrown out completely.
The Process
After an accident, there are certain steps to take to ensure you're taken care of physically, financially, and legally. The first step is making sure you receive medical attention immediately, even if you don't feel you've sustained an injury. If you do end up filing a personal injury claim, you'll need as much supporting documentation as possible, and a physician's report can help your case. You should also notify your insurance of any auto or home accident, as well as contact local law enforcement.
If you need to file a lawsuit, you can do so with your own insurance, the responsible party's insurance, or directly with the responsible party. Through my investigation, I can determine which of these avenues is the best for you. Next, we'll have to prove negligence, which means we must gather enough evidence like photos, police reports, insurance reports, and medical reports to support your case. Once this is complete and your claim has been filed, we'll begin reviewing your settlement options. This is a crucial step that you'll only want to go through with an experienced lawyer who can negotiate on your behalf to get you what you deserve.
Possible Damages Available
The amount of damages you receive depends on many factors. Ideally, you'll get the financial compensation you need to cover all expenses related to your accident, but these can be hard to pin down, especially since future expenses related to medical bills are unknown and it's nearly impossible to put a price tag on emotional pain and stress. Some possible damages could be for past and future medical expenses related to bodily injuries, pain and suffering, inconveniences related to things like traveling to and from medical appointments, lost earnings, or lost future earning capacity.
Personal Attention and Smart Advocacy
If you're looking for an attorney who'll take the time to listen to you, work tirelessly to uncover evidence, and build the strongest case possible, call The Thomas Law Firm, PLLC today. I have extensive experience working with truck, motorcycle, and car accident claims, as well as claims involving wrongful death, medical malpractice, and product or premises liability. I've been helping clients in and around North Chesterfield, Virginia, for years and I can help you, too. You don't have to go through this alone.