Understanding Insurance Bad Faith Tactics
Dec. 14, 2022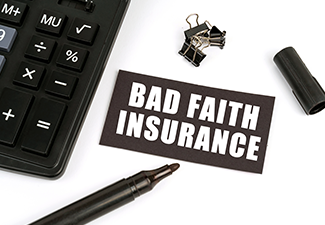 Nearly everyone in the United States has some kind of insurance. It could be insurance coverage for your automobile, your health, your home, or your business. Insurance policies are supposed to give us peace of mind knowing that we are protected if anything happens to us or our property. Insurance can be a powerful tool, but only if the insurance company plays by the rules.
Unfortunately, not all insurers play by the rules. Many insurance companies employ bad faith tactics to protect their bottom line and avoid paying out on claims. When this happens, you can turn to an experienced attorney to hold the insurance company accountable for its illegal and wrongful practices.
As a personal injury attorney at The Thomas Law Firm, PLLC, I know how insurers work because I go up against big-name insurance companies on almost a daily basis. With an office in North Chesterfield, Virginia, I represent accident victims who deal with unfair insurance practices throughout the state, including Henrico, Richmond, and Petersburg.
Common Bad Faith Tactics Employed by Insurance Companies
An insurance company acts in bad faith when it fails to uphold its fiduciary duties owed to policyholders. Some of the most common bad faith tactics employed by unscrupulous insurance companies include but are not limited to:
Lowballing. Offering less than the claimant deserves is referred to as "lowballing." A claimant may be pressured by the insurer to accept a lowball first offer without realizing the full extent of their losses. It may not be possible to determine cumulative medical expenses after a car accident before the injured victim reaches their Maximum Medical Improvement (MMI). Typically, you should refuse to accept a first settlement offer without talking to an attorney first.

Long delays. Although there are deadlines that insurance companies must follow when processing and responding to claims, it is not uncommon for insurers to delay the claims process in an attempt to make the claimant more agreeable to lowball settlement offers.

Not conducting a prompt and thorough investigation. An insurance company may be acting in bad faith when they fail to promptly and thoroughly investigate a claim.

Misrepresentation. An insurer may also attempt to mispresent policy terms or conditions to policyholders in an attempt to deny or devalue their claims. For example, an insurance company may say that the claimant's damages are not covered when, in fact, they are.

Not paying a valid claim. An insurance company may be held accountable for acting in bad faith when it refuses to pay a valid claim. If your damages are covered by your policy, but the insurance company refuses to settle your claim, it may be because the insurer is using a bad faith tactic against you. According to Virginia's State Corporation Commission, insurance companies must pay valid claims promptly and fairly.

Making threatening statements. If the insurance company is threatening you in an attempt to pressure you into accepting an unreasonable settlement offer or not filing a claim altogether, the insurer may be acting in bad faith.
Consider speaking with a knowledgeable personal injury attorney to assess your particular situation and determine whether the insurance company is using bad faith tactics against you.
What Is Your Attorney's Role in the Claims Process?
Insurance companies know that most policyholders are not aware of their rights, and insurers are more than willing to take advantage of that. For unscrupulous insurers, most accident victims who are not represented by attorneys are easy prey.
When insurance companies act in bad faith, policyholders will usually need strong and reliable representation from an attorney to protect their rights and demand fair compensation for a car accident.
Without an attorney, you may not be able to tell the difference between a good faith and bad faith tactic when filing a claim for compensation. A skilled attorney can help claimants understand their rights and the applicable laws when dealing with insurance companies to get the compensation they deserve within a reasonable amount of time.
Get Strong & Reliable Representation Today
If you believe the insurance company used bad faith tactics against you, do not hesitate to contact an attorney to discuss your legal options. At The Thomas Law Firm, PLLC, I work tirelessly to protect the rights of my clients, help them hold insurance companies accountable, and assist them in pursuing the compensation to which they are entitled. Reach out to my office in North Chesterfield, Virginia, to request a free consultation today.