Three Common Causes For Medical Malpractice Claims
Feb. 6, 2023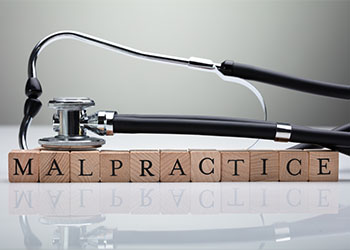 According to a recent study by the John Hopkins University School of Medicine, there are around 250,000 annual fatalities in the United States due to medical malpractice. In Virginia, individuals who suffer injuries or health complications due to a medical provider's negligence, oversight, or omission may be entitled to compensation. A highly-skilled Virginia personal injury attorney can explain some of the most common causes of medical malpractice claims and help you seek damages.
At The Thomas Law Firm, PLLC, I have devoted my career to advocating for the best interests of medical malpractice victims and their loved ones. As your attorney, I can evaluate all of the facts of your unique situation, explore your options to recover damages, and help you pursue the rightful financial compensation for your injuries. My firm proudly represents clients across North Chesterfield, Henrico, Richmond, and Petersburg, Virginia.
Understanding Medical Malpractice in Virginia
According to Virginia law, medical malpractice occurs when a patient suffers a personal injury or wrongful death due to the services rendered by a health care provider or facility. Medical malpractice or negligence may occur due to the failure of the physician to offer adequate care or treatment that is consistent with the patient's needs.
Statute of Limitations
Generally, the statute of limitations for medical malpractice claims in Virginia is two years from the date of injury, act, or omission or from the date the claimant discovered the injuries.
Three Common Causes for Medical Malpractice Claims
Medical malpractice claims can result from countless incidents. The following are some of the most common:
Diagnosis Errors
Diagnosis errors occur when the medical professional fails to establish a prompt and accurate description of the patient's health problem or communicate the health issue to them. However, diagnosis errors are categorized into:
Wrong Diagnosis – A wrong diagnosis occurs when the doctor completely misses the diagnosis or provides a wrong diagnosis of the patient's health problem.

Delayed Diagnosis – A delayed diagnosis occurs when the physician fails to diagnose the patient's health issue quickly or within a reasonable period.

Failure to Diagnose – Failure to diagnose occurs when the physician fails to diagnose the patient at all.
Failure to Properly Treat a Diagnosis
Unfortunately, failing to diagnose and provide adequate treatments for a person's health issue or illness may result in medical complications or other serious repercussions. Patients who suffer health deterioration or complications due to a failure to properly treat a diagnosis may be entitled to bring a medical malpractice claim.
Surgical Errors
Surgical errors are mistakes or omissions that occur while carrying out surgeries. However, a surgical error will only qualify as medical malpractice when the surgeon did not follow the required standard of care when performing the surgical procedure, thereby causing an injury to the patient. For example:
The surgeon cut the wrong location.

The surgeon operated on the wrong body part.

The surgeon cut a nerve during the surgery.

The surgeon made an anesthesia error.

The surgeon didn't review the patient's history before surgery.

The surgeon left a sponge or instrument inside the patient's body.
No matter what your situation entails, an experienced Virginia medical malpractice attorney can review your case details, identify the liable party, and help file your claims.
Who Can Be Sued for Medical Malpractice?
Additionally, a number of different medical providers and entities may be held liable for medical negligence or malpractice, including:
Doctors or physicians

The hospital or medical facility

Pharmacists

Hospital medical staff

Midwives

Clinic

Laboratories

Nurses

Urgent care centers

Pharmaceutical companies

Radiologist
Basic Elements of a Claim
To recover damages, your medical malpractice claim must establish negligence and liability through the following elements:
There was a doctor-patient relationship.

The medical provider was negligent.

The negligence of the medical provider caused your injury or medical complication.

The medical provider failed to offer the appropriate medical standard of care.

You suffered damages, including additional medical treatments and physical pain.
Possible Damages Available
Victims of medical malpractice or negligence in Virginia may be eligible to recover the following damages:
Medical expenses

Lost income and benefits

Loss of future earning capacity

Loss of enjoyment of life

In-home care expenses

Ambulance costs

Medical accessories

Compensation for reduced earning capacity

Physical pain and suffering

Loss of consortium or companionship

Mental anguish

Wrongful death damages, where applicable
It's also important to note that there is a cap of $2.55 million for Virginia medical malpractice claims that receive verdicts between July 1, 2022, and June 30, 2023. The cap will increase by $50,000 annually until 2031 when it will be $3 million. A dependable attorney can fight for your legal rights and help you pursue the financial justice you deserve.
Guiding You Towards a Better Future
When the negligence of a healthcare provider or medical facility results in an injury or further medical complications, the patient may be eligible to seek damages. At The Thomas Law Firm, PLLC, I'm committed to offering skilled representation and personalized legal counsel to clients looking to file a medical malpractice claim.
As your legal counsel, I can evaluate all of the surrounding details of your case and guide you through the claims process. In addition, I will fight compassionately for your best interests and help you seek fair financial compensation to cover your medical bills, lost wages, future medical treatments, and any additional pain and suffering you have endured.
If you or a loved one has fallen victim to medical negligence, call me today at The Thomas Law Firm, PLLC, to schedule a simple case assessment. I can help you understand your options and seek your rightful financial compensation. My firm proudly represents clients across North Chesterfield, Henrico, Richmond, and Petersburg, Virginia.