Steps to Take Immediately Following an Accident
Nov. 9, 2021
The Virginia Department of Motor Vehicles and the Virginia Highway Safety Office provide annual crash facts, which document the trend in accidents over a period of years. According to recent data, there were 105,600 traffic accidents in the state of Virginia in 2020. The traffic accidents that year resulted in 52,668 injuries and 847 fatalities, demonstrating that approximately half of all individuals involved in traffic accidents suffered injuries.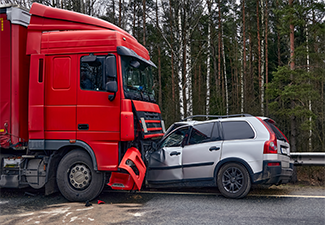 At The Thomas Law Firm, PLLC, I provide legal representation to clients who suffer serious personal injuries in auto accidents. When speaking with potential clients, I offer a thorough and free case evaluation to ensure injured individuals have an opportunity to discuss their legal options. In addition to North Chesterfield, Virginia, I represent injured victims in and around Richmond, Petersburg, and Henrico.
Steps to Take After an Accident
If you have ever been involved in a car accident, you already know how stressful the situation can be. Not only is adrenaline running through your system, but you may be in pain, unable to move, and unsure of what to do next after the accident. Although the following steps may seem obvious, having a good understanding of these steps can help you on your way to compensation.
Step 1 – Identify Who Has Suffered Injuries
The most important factor in any accident is the safety of every person involved. After an accident happens, every person should be accounted for and moved to safety to the extent possible. Given the severity of some injuries, it may be difficult to move an injured person without causing that person further harm.
Step 2 – Call the Police
Calling the police is absolutely critical to the prompt treatment of anyone injured in a car accident. Additionally, calling the police to report an accident is required by law in certain situations. Drivers involved in an accident have a duty to not only stop at the scene of the accident but also to report the accident by calling authorities. Failure to do so may result in criminal charges.
Step 3 – Seek Medical Attention
If your injuries are severe enough that you are transported to a local hospital, you are already documenting your injuries, which proves an accident happened. If you are experiencing any pain or discomfort but do not require an ambulance, you should still seek medical attention right away.
Not only do you want to document that you have been injured in a car accident, but you also want to ensure you do not have any serious injuries that require emergency intervention. Some injuries may not produce symptoms right away. As such, a prompt and thorough medical evaluation is a good idea no matter how minor you believe your injuries are.
Step 4 – Obtain Documentation
The police will generate an accident report that can be used for any purpose to document that an accident happened and that the accident resulted in injuries. The accident report will provide as much detail as is available to police officers upon arrival at the scene. In addition to obtaining a copy of the accident report, you should attempt to take photographs of the scene of the accident (if possible), obtain witness statements, and obtain copies of medical records that document treatment for injuries.
Step 5 – Notify Your Insurance Company
After you have been involved in an accident, you are required to notify your insurance provider. However, when speaking with your insurance provider, you should be cautious and avoid giving your insurance company a recorded statement, which could be used against you later on.
Step 6 – Hire a Personal Injury Attorney
When you are recovering from car accident injuries, the last thing you want to do is talk to an insurance adjuster. Because of the significant damages resulting from car accident injuries, including physical and mental pain and suffering, as well as economic losses, it is a good idea to consider how a Virginia personal injury attorney may be able to help you. An attorney can work with your insurance company and provide you with additional legal options that may be available to you.
Potential Pitfalls of Car Accident Injuries
Car accidents can produce devastating injuries, and no matter how debilitating or severe injuries can be, some victims do not receive the compensation they need and deserve. A negligent driver may not have insurance, or your insurance policy may not provide sufficient coverage to meet all of your economic needs. Insurance companies may offer you a low settlement value that is inadequate given the severity of your situation.
Additional hurdles that may make it more difficult for you to obtain compensation in a personal injury lawsuit are (1) the statute of limitations for personal injury cases and wrongful death cases and (2) Virginia's application of contributory negligence laws. Under Virginia law, a person who suffers injuries in a car accident has two years from the date of injury to file a personal injury lawsuit. A wrongful death lawsuit filed on behalf of a deceased car accident victim must be filed no later than two years after the person's date of death.
Virginia law also prohibits plaintiffs from recovering compensation if they are even one percent at fault for contributing to the cause of an accident. In other words, if a jury believes a driver may share any blame at all, the plaintiff would be barred from recovering any compensation awarded at trial. As such, because of the complicated nature of Virginia law, working alongside an experienced personal injury attorney can help you formulate the best plan of action for your situation.
Personal Injury Attorney Serving North Chesterfield, Virginia
If you or a loved one has suffered injuries in a car accident, you deserve to know what your legal rights are and whether you may be entitled to compensation. At The Thomas Law Firm, PLLC, I devote my legal practice to representing the rights of injured victims who have suffered at the hands of another's negligent conduct. My law practice reaches clients throughout North Chesterfield, Virginia, as well as Richmond, Petersburg, Henrico, and surrounding areas. Contact my office today to schedule your free consultation.