Road Rage & Aggressive Driving
Oct. 28, 2022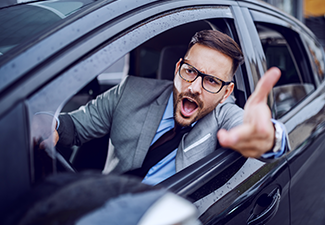 In the Commonwealth of Virginia, drivers are expected to know and obey the rules of the road and drive safely and responsibly. Unfortunately, some drivers intentionally disregard the safety of other drivers and road users, vent their anger toward others, or drive aggressively. In the event that acts of road rage and aggressive driving result in an accident or injury, the injured party may be eligible to pursue fair financial compensation through a personal injury claim or lawsuit.
At The Thomas Law Firm, PLLC, I'm ready and poised to assist, guide, and represent victims of road rage and aggressive driving accidents and their families in their injury claims. As a highly-skilled Virginia personal injury attorney, I can explore your options to seek damages, identify the responsible party, and help you pursue the financial justice you deserve. My firm is proud to serve clients across North Chesterfield, Petersburg, Henrico, and Richmond, Virginia.
What Is Road Rage?
Road rage can be described as dangerous or angry behavior displayed by a motorist while driving. Often, road rage is targeted at other motorists and road users. The raging driver may exhibit behaviors such as honking in anger, tailgating, making physical threats, verbal insults, angry gestures, yelling, and other offensive acts.
Causes of Road Rage
Here are some common causes of road rage:
Heavy traffic

Traffic delays

Impatience

Disregard or disrespect for other road users

Being ignorant of traffic laws

Anonymity

Being cut off or blocked by a distracted driver
However, a slight inconvenience can irritate you while driving and lead to road rage. Nevertheless, you should control yourself, handle the situation calmly, and make sure you do not transfer aggression to other drivers.
What to Do If You Feel It
If you feel irritated when behind the wheels, here are some useful tips to help prevent a road rage incident:
Relax and take a deep breath. Calm down before you drive.

Plan to leave early to avoid getting stuck in heavy traffic.

Avoid unnecessary honking, yelling, or tailgating.

Have empathy and respect for other drivers and road users.
If you remain calm and follow the tips mentioned above, you can prevent this dangerous driving act.
What to Do If You Witness It
According to a 2021 Road Rage Survey by The Zebra, about 45.4% of drivers reported witnessing honking as an act of road rage. If you witness road rage or if you're the target of a raging driver, you should take the following steps:
Stay calm.

Don't provoke the other driver by blocking them or making offensive gestures.

Keep your distance.

Take mental notes of pertinent details about the raging driver, such as the driver's appearance, facial hair, gender, estimated age, outfit, and eyeglasses.

Go to the nearest police precinct to report the road rage incident.
If you or someone you know were injured in a traffic crash caused by an aggressive or raging driver, you need to get in touch with a reliable personal injury attorney straight away. A skilled lawyer can educate you about the next steps to take when a raging driver is harassing or following you and help protect your legal rights.
Understanding Aggressive Driving
According to Virginia law, a driver is guilty of aggressive driving if they constitute a hazard to another driver or road user or commit any of these traffic violations with an intent "to harass, intimidate, injure or obstruct another person:"
Drives on the right side of highways

Fails to observe lanes marked for traffic

Follows another vehicle too closely

Fails to yield right-of-way before entering the highway

Evades traffic control devices

Fails to give way to another vehicle trying to overtake

Exceed the limitations on overtaking and passing
Additionally, aggressive driving is a traffic offense in the Commonwealth of Virginia. In contrast, road rage is a criminal offense. Regardless, both actions are dangerous and can result in devastating penalties and other life-altering ramifications.
The Dangers of Aggressive Driving
Here are some of the dangers of aggressive driving:
Traffic accidents

Road hazards or mishaps

Road injuries or fatalities

Vehicle damage

Damages to personal or public property

Hefty fines, imprisonment, and other severe penalties
However, the actions of an aggressive driver may easily expose everyone, including the driver, other motorists, and road users, to accidents, injuries, and other road hazards. Hence, it is important that you protect yourself.
When Road Rage and Aggressive Driving Lead to Accidents
However, when aggressive driving and road rage causes a traffic accident, the injured persons may be entitled to recover damages by filing a claim or lawsuit against the at-fault driver.
Virginia is an "at-fault" auto accident state. According to the state's at-fault system, the raging or aggressive driver who caused the accident will hold financial liability for the victim's injuries, damages, and accident-related losses. To recover damages, you (the victim or plaintiff) can proceed by:
Filing a first-party claim with your own insurance carrier.

Filing a third-party claim with the at-fault driver's insurance company.

Filing a personal injury lawsuit against the at-fault driver in civil court.
A compassionate Virginia car accident lawyer can fight vigorously for your best interests and help pursue fair financial compensation to cover your medical expenses, lost wages, pain, discomfort, and suffering, and other potential damages.
Legal Advocacy When You Need It Most
Being the victim of a traffic crash caused by aggressive driving and road rage can be emotional and traumatizing. Therefore, you need to hire an accomplished personal injury attorney immediately for detailed guidance and to advocate for your best interests.
At The Thomas Law Firm, PLLC, I'm committed to offering experienced legal guidance and vigorous representation to clients in their car accident cases. As your legal counsel, I can investigate the facts of your case, seek to identify the aggressive or raging driver, and help file your injury claims. In addition, I will help negotiate fair financial compensation with the insurance provider or take additional legal action where necessary.
Have you been injured in an accident caused by an aggressive or raging driver? You may seek fair compensation. Contact me at The Thomas Law Firm, PLLC today to schedule a simple case assessment with a trusted car accident attorney. I can offer you the compassionate representation and personalized attention you need in your claims. My firm is proud to serve clients across North Chesterfield, Petersburg, Henrico, and Richmond, Virginia.