Personal Injury FAQs
April 19, 2023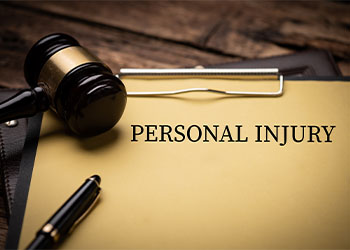 Personal injury claims can be confusing and overwhelming experiences for anyone, especially if you have never filed this type of claim before. You may have a lot of questions about what to expect and how you should proceed.
Fortunately, you do not have to figure it out all by yourself. As a personal injury attorney at The Thomas Law Firm, PLLC, I help injured victims navigate the personal injury claims process in North Chesterfield, Virginia, and the surrounding areas, including Henrico, Petersburg, and Richmond.
Frequently Asked Questions About Personal Injuries
Below, we have answers to some of the most frequently asked questions about personal injuries so you can be better informed and prepared:
1. What should I do after an accident?
After an accident, there are several important steps you should take. Firstly, seek medical attention immediately. You should also report the accident to authorities and your insurance company. Gather as much evidence as possible from the scene of the accident (i.e., taking photos of the damage to your vehicle and the surrounding area and gathering the contact details of those involved and witnesses).
2. I was partially at fault for the accident, can it affect my compensation?
Yes, being partially at fault for the accident could affect your compensation. Virginia has a contributory negligence law in place that can prevent you from receiving any compensation if you are found to be partially responsible for the accident. This means it is crucial to work closely with an experienced personal injury attorney who can help you understand how this law may apply to your case and assist you in fighting for the compensation you deserve.
3. Should I still get medical help if I feel fine?
Yes, it's critical that you get medical help, regardless of whether you feel any symptoms or not. Injuries can occur even in low-impact accidents, and not all injuries present symptoms right away. It's best to get checked out by a professional to ensure that there has not been any underlying damage. Additionally, proper documentation of injuries sustained is necessary to support any future personal injury claim.
4. Should I answer the insurance adjuster's questions?
You should be very cautious when speaking with an insurance adjuster. Insurance adjusters do not represent your best interests. Instead, they are trying to minimize the amount paid out on a claim and may use your words against you. It's best to have an experienced personal injury lawyer handle all communications with insurance adjusters.
5. How long do I have to file a personal injury claim?
In Virginia, you generally have two years from the date of your injury to file a personal injury claim. This is known as the statute of limitations. If you do not file your claim within this timeframe, you may lose your right to seek compensation. Keep in mind that there may be exceptions to this rule, such as if the injured party was a minor or if the injury was caused by medical malpractice. It's always best to consult with a personal injury attorney to determine the specific timeframe for your case.
6. What happens after I file a lawsuit?
After you file a lawsuit, the legal process can take several months or even years to resolve. The at-fault party will have an opportunity to present their case, which may involve negotiations or mediation. If these attempts at resolution fail, the case may go to trial, where both sides will present evidence and testimony to a judge or jury. Ultimately, the judge or jury will determine whether the at-fault party is liable for your injury and, if so, how much compensation you should receive.
7. Do I need to hire a personal injury attorney?
While it's not required to hire a personal injury attorney, it's highly recommended. Personal injury cases can be complex and require a deep understanding of the law, as well as strong negotiation skills. An experienced personal injury attorney can help you navigate the legal system, negotiate with insurance companies, and advocate for your right to fair compensation.
Turn to The Thomas Law Firm for Help
If you were recently injured, I can answer all of your questions and help you get started with your personal injury claim. Turn to my law firm, The Thomas Law Firm, PLLC, to get the help you need. Reach out to my office in North Chesterfield, Virginia, to schedule a free case review and fight for the compensation to which you are entitled.