My Loved One Was Killed by a Drunk Driver.
What Happens Now?
March 11, 2022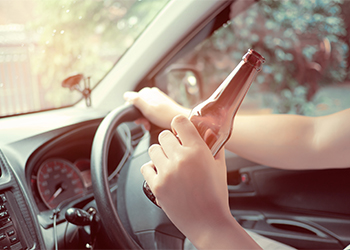 Drunk driving is responsible for many traffic crashes and fatalities in Virginia and across the United States. According to the 2020 Traffic Crash Facts from Virginia's Department of Motor Vehicles, there were 6,624 alcohol-related crashes statewide, causing 3,986 injuries and 272 fatalities. Losing a loved one is one of the most heartbreaking occurrences anyone can experience in life. Such a loss could be even more painful if it was caused by a drunk driver.
If your family member was killed by a drunk driver, you may be eligible to pursue damages by filing a wrongful death claim against the responsible party. At The Thomas Law Firm, PLLC, I'm poised and ready to assist and support your family during such a difficult period. As a skilled Virginia personal injury attorney, I will fight compassionately to protect your family's best interests and help seek fair financial compensation to cover medical expenses, funeral and burial costs, lost wages, loss of consortium, and other available wrongful death benefits.
My firm—The Thomas Law Firm, PLLC—proudly represents clients across North Chesterfield, Petersburg, Henrico, Richmond, and the rest of Virginia.
Criminal Charges for DUI
A person who drives a motor vehicle while under the influence of alcohol or drugs and causes another person's death may be arrested and charged with DUI involuntary manslaughter. In the Commonwealth of Virginia, DUI-related involuntary manslaughter is a Class 5 felony, punishable by up to 10 years in state prison and hefty fines.
Liability for Drunk Driving
Depending on the specific circumstances leading to the incident, any of the following parties or entities may be held liable for the drunk driving-related death:
Driver – The drunk driver who caused the death may be liable.
Parents – Occasionally, parents aid the drunk driver in some way. For instance, they may have supplied their teenager with alcohol.
Dram Shop Liability – The establishment that served the drinks to the intoxicated driver may be held responsible.
The Employer – If an employee was driving while under the influence and caused the accident while performing the duties within the scope of his or her employment, their employer could be held liable.
Social Host Liability – The host who served alcohol or alcoholic beverages to a minor who caused the drunk driving accident could be held responsible.
A skilled attorney can work to identify the liable party and help recover available damage to cover your loss.
Why File a Wrongful Death Claim?
A wrongful death claim may be possible when a person dies as a result of the negligent, careless, or wrongful actions of another person. A wrongful death claim or lawsuit allows the surviving family members to seek financial justice on behalf of a loved one who died due to a wrongful act.
The purpose of a wrongful death claim is to hold the liable party responsible for an avoidable accident that caused a death. Although it won't bring the person back, filing a wrongful death claim can hold the liable party accountable to ensure that this tragedy doesn't happen to other families. Additionally, filing a wrongful death claim can mean a much-needed financial boost for the surviving loved ones to cover funeral expenses, burial costs, lost income, loss of companionship, and the medical bills incurred before the victim's death.
Who Can File a Wrongful Death Claim in Virginia?
Under Virginia law, a wrongful death claim must be filed by the personal representative of the decedent's estate. Any damages or wrongful death benefits awarded will be distributed to the decedent's "statutory beneficiaries," including:
First in line: the deceased's surviving spouse and children or grandchildren

Next in line: the surviving parents and siblings of the deceased, or any dependent relative

Next in line: any surviving family member entitled to inherit the deceased's estate under Virginia's intestacy laws
Time Limits for Filing
According to the Virginia wrongful death statute of limitations, a wrongful death claim must be filed within two years from the date of the deceased person's death. It's imperative to reach out to a personal injury lawyer to start the process.
Experienced Wrongful Death Attorney in Virginia
Losing a family member can be emotional and overwhelming. Such a loss can have far-reaching consequences on your mental, emotional, and financial wellbeing. Fortunately, the surviving families of the victim may be entitled to seek compensation by filing a wrongful death lawsuit against the party who caused the death. An experienced Virginia wrongful death attorney can advocate for your legal rights and help recover available damages for your loss.
At The Thomas Law Firm, PLLC, I have the diligence to guide, support, and represent clients in their wrongful death claims. As your legal counsel, I will thoroughly investigate all the facts surrounding your case and strive to establish that the defendant's wrongful actions caused the victim's death. I will work to hold the responsible party accountable and help you and your loved ones move forward.
If you have lost a spouse, parent, child, or another close relative to a drunk driver's wrongful actions, you deserve experienced legal guidance and vigorous representation. Contact The Thomas Law Firm, PLLC today to schedule a simple case assessment with a skilled personal injury attorney. I can fight compassionately to protect your best interests and offer you the reliable representation you need in your wrongful death lawsuit. My firm proudly represents clients across N Chesterfield, Petersburg, Henrico, and Richmond, Virginia.