Is There An Average Settlement for a Motorcycle Accident?
Jan. 30, 2023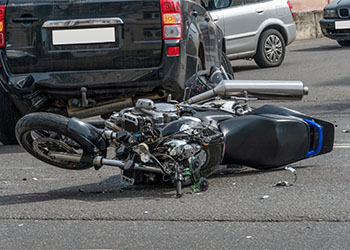 Nearly 425,000 people have motorcycle endorsements in Virginia. They may be lured to two-wheel transportation because they are more economical, easier to get around in urban areas, or a greener alternative to cars. Perhaps they are tempted by the open road and open air.
All of this comes at a cost. Of all motorcycle-involved crashes in Virginia in 2022, 96% resulted in injury or death. That compares to only 49% of crashes involving all types of vehicles. Odds are if you are in an accident while on a motorcycle, you will not walk away unharmed.
Because four-wheel vehicles have that much more protection, it makes motorcycle riders extremely vulnerable to injury when someone doesn't follow the rules of the road. If you are one of them, you may be wondering what the average settlement is for a motorcycle accident and if it is enough. I can help you recover the compensation you deserve.
If you have been injured in a motorcycle crash or a loved one killed in North Chesterfield, Petersburg, Henrico, or Richmond, Virginia, contact my firm, The Thomas Law Firm, PLLC, about representation in a personal injury claim.
What Can I Recover Money for After a Motorcycle Accident in Virginia?
If you are injured in a motorcycle accident in Virginia, and someone else is at fault, you can file a claim against the at-fault driver's bodily injury liability insurance coverage. Recoverable damages include current and future medical expenses if your injuries will require long-term treatment, income lost while you are unable to work, or future income if your injuries prohibit you from returning to your employment. You can also recover from damages like pain and suffering.
If your loved one died in the accident and you are a statutory beneficiary, such as a spouse, child, grandchild, parent, or sibling, you can file a motorcycle wrongful death claim. Recoverable damages include lost income, loss of guidance, and companionship. You can also recover damages for the estate, such as medical and funeral expenses.
What Factors May Determine the Settlement Amount?
Factors differ in every case, which is why it is difficult to pinpoint the average compensation after a motorcycle accident. Here is a look at some of the key factors:
The extent of damages will impact the settlement. The permanence of injuries or disfigurement or the length of time you may be unable to work at full employment are variables.

Fault is critical in Virginia. Virginia is a pure contributory negligence state, so all fault must be placed on someone other than yourself. If you are assigned even a percentage of fault for the crash, you cannot pursue a claim. If you weren't obeying helmet laws, were speeding, or were lane-splitting at the time of the accident, you will bear some fault.

Insurance coverage is also a factor. Virginia does require that every auto owner carry bodily injury liability coverage of at least $30,000 per person and $60,000 per accident if more than one person is injured. As you can imagine, $30,000 can fall far short of the amount of damages someone sustains, particularly if they were on a motorcycle. The liability insurer will not pay more than policy limits; however, you can also sue the at-fault driver if they have assets that may cover the costs of a higher sum in a jury award. If the at-fault driver carries an umbrella liability policy, which would have substantially higher limits, you may be able to file a claim against that coverage as well.

Injuries are always a major factor in the value of your personal injury claim or wrongful death claim. The more severe your injuries, the higher your medical expenses will be. You may also suffer permanent disability or require treatment for the rest of your life. Wrongful death claims also tend to be settled for higher sums due to the loss of life.
What Should I Do After a Motorcycle Accident?
After a motorcycle accident, move to a safe place if you can. Make sure someone calls 911. Exchange insurance information with the other driver and write down contact information for any witnesses. Depending on your injuries, you may not be able to do any of this.
When law enforcement and emergency services arrive, seek treatment, even if you aren't sure you are injured. Chances are, you have sustained injuries, even if they are not readily apparent. Be examined by an emergency physician so injuries are diagnosed. Delayed treatment can make it difficult or impossible to recover from your injuries.
Don't take the first settlement offer from the other driver's insurance company. It will be too little, and you won't yet know the full value of your damages. Call a Virginia motorcycle accident attorney. Your attorney will help gather documents and investigate the circumstances of the crash. This is particularly vital since you need to prove you bore no fault in order to pursue a claim. Your attorney will know what to do and will guide you through the claims and, if necessary, the trial process.
Strong & Supportive Legal Advocacy
If you have been injured in a motorcycle accident or a loved one has been incapacitated or killed, the best decision you can make is to put an experienced, knowledgeable, and tenacious motorcycle accident attorney on your side. You deserve justice, and I will work tirelessly for you to get it.
Call The Thomas Law Firm, PLLC in North Chesterfield, Virginia, today. I charge nothing for us to talk about your case, so call now.