I Was Involved in a Hit and Run. Do I Still Have a Case?
May 30, 2022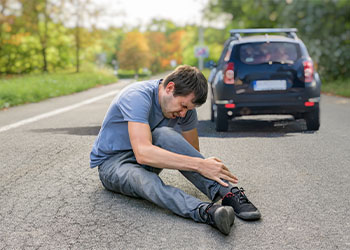 Hit-and-run accidents can be frightening, or even overwhelming. In 2020, there were more than 4,700 of these kinds of accidents in Virginia. Although being involved in a hit-and-run incident may make finding compensation more difficult, it is not impossible. You just need an experienced personal injury attorney to help.
At The Thomas Law Firm, PLLC, I have helped numerous high-and-run victims seek fair compensation for their injuries and other damages. If you have been involved in such an accident in North Chesterfield, Petersburg, Henrico, Richmond, or anywhere else in Virginia, I can help you move forward.
First Steps After a Virginia Car Accident
Virginia law requires reporting any accident which results in any injury or death. Moreover, the state requires reporting any accident which involves a suspected uninsured motorist. A lack of auto liability insurance, as well as driving under the influence of drugs or alcohol, are common reasons why drivers flee the scene of the crash. No matter if the other driver stayed or fled, you need to call 911 so emergency responders and law enforcement can be dispatched to the scene.
Auto owners in Virginia who choose to not purchase insurance with the minimum $25,000 per person and $50,000 per accident bodily injury liability coverage and $20,000 property damage liability coverage may opt to pay a $500 uninsured motor vehicle fee annually to the Department of Motor Vehicles. Although they can still legally operate their vehicle, an uninsured driver is still financially responsible for injuries or damages they cause.
How Can I Pay for My Expenses if I'm Involved in a
Hit-and-Run?
If you have an auto liability insurance policy, you will have uninsured motorist (UM) and underinsured (UIM) motorist coverage up to the same limits as your bodily injury liability coverage. That coverage is required by law.
For example, if you have a liability policy with a minimum 25/50/20 coverage, you will have $25,000 in UM/UIM coverage as well. When an at-fault driver flees the scene of a crash, you can file a claim against your UM coverage for up to the limits. Bear in mind that if you purchase more than the minimum bodily injury liability coverage, you will also have higher policy limits on your UM/UIM coverage.
Moreover, if you have purchased medical payment coverage—which is optional but advisable— you can claim those benefits regardless of who is at fault for an accident. This coverage provides an additional way to help pay for your medical expenses.
What Should I Do if I'm Involved in a Hit and Run?
First and foremost, never attempt to follow any person fleeing the scene of the accident in a vehicle or on foot. Get yourself to a safe place at the crash scene and wait for law enforcement and emergency responders to arrive.
There are a few things you can do if you are able:
Note as many details of the vehicle or driver as you can remember. This could include the make, model, and color of the vehicle, as well as parking stickers, bumper stickers, and the license plate number.

If there were witnesses to the incident, write down their names and contact information.

Ensure you or someone dials 911 to report the crash.

Seek immediate medical attention, even if you don't think you are injured. Some injuries are not readily apparent, and delayed diagnosis and treatment can inhibit your recovery.

Contact your insurance company to report the accident so the adjuster can open a claim. Advise the adjuster that the at-fault driver fled the scene.

Hire a car accident attorney who has represented clients pursuing compensation after a hit and run. Your lawyer will be your best advocate for finding coverage.
Getting the Experienced Legal Support You Need
Being involved in a car accident is always physically, emotionally, and financially stressful. Having the negligent driver fled the scene of the accident makes obtaining compensation more complex. At The Thomas Law Firm, PLLC, I have seen the frustration and sometimes desperation my clients experience following a hit and run. I am dedicated to leaving no stone unturned in seeking the compensation you deserve.
If you have been injured in a hit-and-run accident in North Chesterfield or other areas of Virginia, call The Thomas Law Firm, PLLC now to schedule a one-on-one consultation. I'll help you face this challenge with confidence.