Distracted Driving Laws in Virginia
Aug. 30, 2022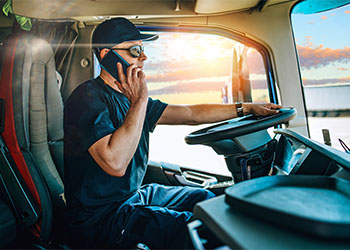 Distracted driving is among the leading causes of traffic collisions in Virginia and across the United States. According to statistics from Virginia's DMV, there were 20,918 total crashes involving distracted drivers in 2021, causing 11,297 injuries and 117 fatalities.
There are several Virginia laws prohibiting distracted driving. Nonetheless, some negligent drivers still text, eat, drink, or perform other activities that distract their attention while driving. An experienced Virginia personal injury attorney can help you understand the distracted driving laws in the state and explore your options to seek damages when involved in a distracted driving accident.
At The Thomas Law Firm, PLLC, I have the resources and diligence to guide clients in their distracted driving accident cases. Using my extensive experience, I can investigate every last detail of your unique situation, fight for your legal rights, and help pursue the maximum possible compensation for your injuries. My firm is proud to serve clients across N Chesterfield, Petersburg, Richmond, Henrico, and the rest of Virginia.
The Dangers of Distracted Driving
Under Virginia laws, drivers must exercise due care when operating their vehicle and focus on the road. Distracted driving is a dangerous act that involves any activity that takes the driver's attention away from the road when driving. Some common driving distractions include drinking, texting, talking on the phone, eating, and talking to other passengers.
Classification of Driving Distractions
Furthermore, driving distractions may be classified into manual, visual, and cognitive distractions.
Visual Distractions: These are distractions that divert the driver's visual attention or eyes away from the roadway. Any activity or action that takes your eyes away from the task at hand can be considered a visual distraction.
Manual Distractions: A manual distraction involves any activity that causes you to remove your hands from the steering wheel. Examples of manual distractions include eating and drinking.
Cognitive Distractions: A cognitive distraction includes any activity that diverts your concentration, brainpower, and focus away from the driving task at hand. Talking to other passengers may be considered a cognitive distraction.
Virginia's Distracted Driving Laws
Effective from January 1, 2021, Virginia law prohibits drivers from texting, holding, or using mobile phones or any other wireless communication devices while driving except:
During an emergency situation—to communicate with law enforcement or emergency services

The motor vehicle has been lawfully stopped or parked
An experienced attorney can enlighten you about the next steps to take when involved in an accident and help file your injury claim.
Filing a Claim
Virginia is an "at-fault" auto accident state. This means that the at-fault party (the distracted driver who caused the accident) may be held financially liable for your injuries, damages, and other accident related-losses suffered from the crash. In order to recover damages, you can proceed by:
Filing a first-party claim with your own insurance carrier.

Filing a third-party claim with the insurance company of the at-fault driver.

Filing a personal injury lawsuit against the at-fault driver in civil court.
Filing an accident claim in Virginia may require proving negligence and establishing liability. You may have to prove that the at-fault driver was distracted in order to seek damages.
Proving They Were Distracted
Some available options to prove that the at-fault driver was distracted include:
Get the driver to admit it

Images and videos from nearby surveillance cameras

Witness statements and testimonies

Subpoena the driver's phone records
A skilled Virginia auto accident attorney can thoroughly investigate all of the facts of your case, help prove that the other driver was distracted, and seek the financial justice you deserve.
Legal Advocacy You Can Trust
Getting hurt in an accident caused by a distracted driver can be incredibly frustrating. However, you don't have to suffer the challenges and financial liability all on your own. At The Thomas Law Firm, PLLC, I'm ready to represent you and help you hold those responsible for your injuries accountable. As your legal counsel, I will evaluate your case and help you move forward.
If you or someone close to you was hurt in a distracted driving accident, it's important to pursue fair compensation. Contact my firm – The Thomas Law Firm, PLLC – today to schedule a simple case assessment with a skilled car accident lawyer. My firm is proud to serve clients across N Chesterfield, Petersburg, Richmond, and Henrico, Virginia.