Can I Sue the City If I Was Hurt on the Bus?
March 23, 2022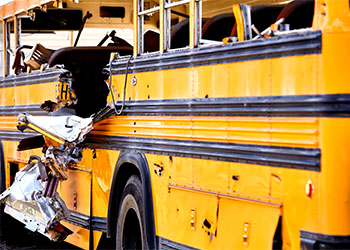 Riding buses is often safer than riding in smaller vehicles, but accidents do occur. The Virginia Department of Education reports that for 2020-2021, school buses were involved in 75 accidents with 11 students injured. Similar statistics for public transportation buses are harder to come by.
Bus accidents generally involve collisions with other vehicles or roadway objects. Laws regarding personal injury claims from bus accidents can vary depending on who owns and operates the bus. Government-owned buses present different legal challenges than private carriers.
If you or a loved one has been injured in a bus accident in or around North Chesterfield, Virginia, contact me immediately at The Thomas Law Firm, PLLC.
I have more than two decades of experience fighting for clients' rights and obtaining the just compensation due to them in personal injury claims. I can help you navigate any legal hurdles to hold those responsible for you or your loved one's injuries.
My firm is proud to serve bus accident victims and their families across North Chesterfield, Virginia, and the surrounding areas of Petersburg, Richmond, and Henrico.
Common Causes of Bus Accidents
The leading cause of bus accidents in Virginia is driver error. The four leading factors are following too closely, failing to yield, making improper turns, and making improper lane changes. Due to Virginia's strict laws on drunk driving by public or private bus drivers, intoxication is rarely a factor.
However, the most common contributing factors to driver error are distracted driving (eating, cell phone use, inattention), driver fatigue, inadequate training, and improper maneuvering.
Who Can Be Held Liable?
If a bus is involved in an accident that causes injuries or fatalities, there are generally four persons or entities that can be held liable. In some cases, a civil action might be possible against one or more of these contributors:
BUS DRIVERS: As legally defined "common carriers," bus drivers are required to exercise a "duty of care" toward their passengers. If they fail to exercise this standard of care, they can be held liable. For instance, speeding, running red lights, or breaking other traffic laws can expose them to liability if an accident results.
MANUFACTURERS: If the vehicle manufacturer or supplier of an important vehicle component somehow led to a vehicular defect resulting in an accident, they can be held liable as well. Think of brake systems that don't work correctly.
OTHER DRIVERS: Of course, a passenger vehicle can cause a bus to be involved in an accident by, for instance, crossing in front of the bus recklessly. Other drivers must also show a "duty of care" for others on the roadways.
PASSENGERS: A passenger can distract the bus driver and cause an accident, and in this case, the passenger can be held liable.
Filing a Claim
In most vehicular accidents, the normal procedure is to file a claim against the at-fault driver and his or her insurance, but when the vehicle is a bus owned and operated by a government entity, the procedure can be more complicated. When it comes to government agencies, a complainant must file what is called a notice of claim.
Virginia law requires the plaintiff to file a notice of claim within one year of the accident. There are specific steps plaintiffs must take when filing a notice of claim, and if they fail to follow these steps, their case will likely be barred.
Of course, if your claim is against the other driver or the manufacturer, then standard legal claims can be made, but in some cases, multiple claims may be warranted, including one against the government agency.
How Legal Counsel Can Help
Being injured on a bus presents legal and administrative challenges that a simple fender-bender does not, so you definitely will need the help of legal counsel to sort through the issues and factors involved, especially if filing a claim against a government entity is needed.
If you or a loved one has been injured in a bus accident in or around North Chesterfield, or in the neighboring communities of Richmond, Henrico, or Petersburg, contact me immediately at The Thomas Law Firm, PLLC. I will fight for the just compensation you deserve.