Are Parents Liable for an Accident Caused by Their Teen?
Oct. 25, 2023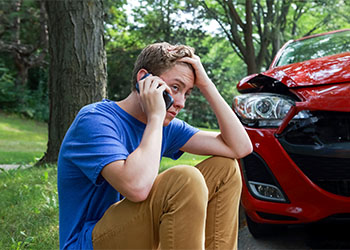 In 2022, according to statistics from Virginia DMV Crash Facts, there were 122,434 total traffic crashes statewide. Of these, nearly 47,137 minor and adult drivers were injured. Under Virginia laws, parents and guardians have the legal obligations and responsibilities to make adequate provision for their children's needs. Also, parents are responsible for supervising, disciplining, and protecting their children. In the event that a teen causes a traffic crash, their parent may be held liable. However, it's more common than you may think, which is why I'm here to leave the worrying in my hands.
At The Thomas Law Firm, PLLC, I'm dedicated to offering compassionate representation and reliable advocacy to parents who are facing liability as a result of their children's actions. As a practiced Virginia personal injury attorney, I can examine your case details, determine whether you have parental liability, and craft a strong strategy to protect you and your child's rights. My firm proudly serves clients across North Chesterfield, Petersburg, North, and Richmond, Virginia.
Liability for Accidents in Virginia
Virginia is an "at-fault" state for auto accidents. Under the state's fault system, the driver who caused the auto crash (the at-fault party) will be held financially and civilly liable for physical injuries, damages, and other accident-related losses suffered by accident victims.
Proving Fault
In order to recover damages, the accident victim or plaintiff must prove fault by showing that:
The at-fault party (defendant) owed the claimant a legal duty of care.

The defendant breached that legal duty of care by acting negligently.

The negligent or careless actions of the defendant caused the claimant's injuries.

The claimant suffered bodily injuries, actual harm, damages, or losses due to the at-fault party's actions.
A skilled personal injury attorney can investigate all of the surrounding circumstances of your unique situation and determine whether you or your child will be held liable for the accident.
Are Parents Liable for an Accident Caused By Their Teen?
Here are some ways through which parents or legal guardians may be held accountable for accidents and personal injuries caused by their teen:
Negligent Entrustment
A parent or guardian may be held responsible for negligent entrustment if the parent knew -- or should have known -- that their child was a dreadful or inexperienced driver.
Vicarious Liability
If the child caused the auto accident while acting within the scope and course of the parent's instructions – for instance, running errands for the mum – the child's parent may be held liable for the traffic crash.
Signing Liability Agreement/License
At times, parents are often required to sign a license or liability agreement stating that they will be responsible for supervising their teen and be liable for their actions. Parents and guardians who sign such agreements would be held responsible for injuries and accidents caused by their children.
Parental Liability Law in Virginia
According to Virginia Code Section 8.01-44, "The owner of any property may institute an action and recover from the parents, or either of them, of any minor living with such parents, or either of them, for damages suffered by reason of the willful or malicious destruction of, or damage to, such property by such minor."
Will Insurance Cover the Expenses?
According to Virginia laws, motorists are often required to have auto insurance coverage with the following minimum amounts:
$25,000 for bodily injuries per person

$50,000 for total bodily injuries per accident involving two or more people.

$20,000 for property damage per accident.
Therefore, the liability insurance will help cover damages sustained by the victims of the traffic crash where you or your child is at fault.
Can a Parent Be Sued in a Personal Injury Lawsuit?
Yes, you can sue a parent in a personal injury lawsuit. However, this is only possible if the child caused the accident or property damage due to their willful or malicious actions. Conversely, if the child negligently or accidentally causes the traffic crash or property damage, the parent would not be financially liable.
To establish parental liability in a personal injury claim or lawsuit, the claimant must prove that the child caused the accident, injury, or property damage willfully, intentionally, or maliciously. If successful, the plaintiff may be able to recover up to $2,500 to cover property damages.
Get Knowledgeable Experience on Your Side
Having effective representation is imperative to protect your rights if your child has been accused of causing an accident. At The Thomas Law Firm, PLLC, I have the diligence and expertise to protect parents against parental liability.
Using my extensive knowledge, I can help you navigate the legal process intelligently and fight compassionately to uphold your rights. In addition, I will advocate for your best interests and help ensure that you or your child do not suffer any serious punishment.
Contact us at The Thomas Law Firm, PLLC, today to schedule a simple case assessment with a knowledgeable personal injury lawyer. I can offer you the brilliant advocacy and vigorous representation you need to navigate crucial decisions in your case. My firm proudly serves clients across North Chesterfield, Petersburg, North, and Richmond, Virginia.